Mirai Inbound Corporate Center provides All-In-One solutions to set up and support your business in Japan.

MICC - Key Service Features
Mirai Consulting has been providing our clients, mainly SMEs, a wide range of consulting services appropriate to their stage of development since it was founded in 1987.
Our strength lies in our 'One Stop Service', which comprises of a total of 200 professionals including CPA (Certified Public Accountant), CTA (Certified Tax Accountant) , Labor and Social Security Attorneys, Judicial Scriveners, and other Financial Institution professionals, providing support in solving clients' issues from a "Total Optimization" perspective.
Our overseas business support includes 7 Subsidiaries (Shanghai, Beijing, Shenzhen in China, Kuala Lumpur in Malaysia, and Ho Chi Minh City in Vietnam, Singapore and Bangkok in Thailand) and 8 Japan Desks (Dalian in China, Hong Kong, Taiwan, Indonesia, Philippines, USA, Myanmar, Cambodia), playing the role of the bridge between Japanese and Overseas companies.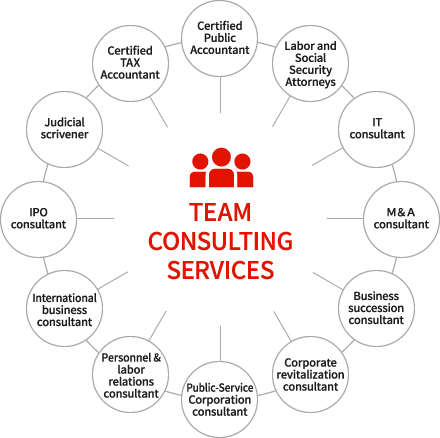 ■One-Stop Support Center for Chinese/ASEAN companies to invest in Japan
■Various events to accelerate global networking for our community members
■Multilingual Consultation Support(English, Chinese, Korean, and Vietnamese)
| Service | What We Offer |
| --- | --- |
| Office Space | Arrange and introduce office space to incorporate/register your company in Japan, Support for your housing needs and lease agreement etc. |
| Company Incorporation | Set up company, Tax planning for your company formation etc. |
| HR/Visa | Work Permit (VISA), Employment Contract, Company Regulation, Personal Income Tax, Recruiting support, etc. |
| Accounting/Tax | Bookkeeping, Filing Tax Return, Financial Statements, Consolidated Accounts, Audit, etc |
| Business Incubation & Growth | Tailor-made business incubation/expansion strategies and its execution support, Market Entry support, Operation Acting Service, M&A advisory, IPO support, Trademark and Patent registration, Exhibition support, etc. |